Arachnomancer Is Going HaremLit!
April Fools!
Guys, I have seen the light—and the stacks of cash—HaremLit is where it's at. And rightfully so. Since before the first book came out, the only question being asked was, "Spider waifus?"
YES! Your wishes are my command. But there exists a serious and not all too small of a problem. What ratio of spider-to-human does everyone want?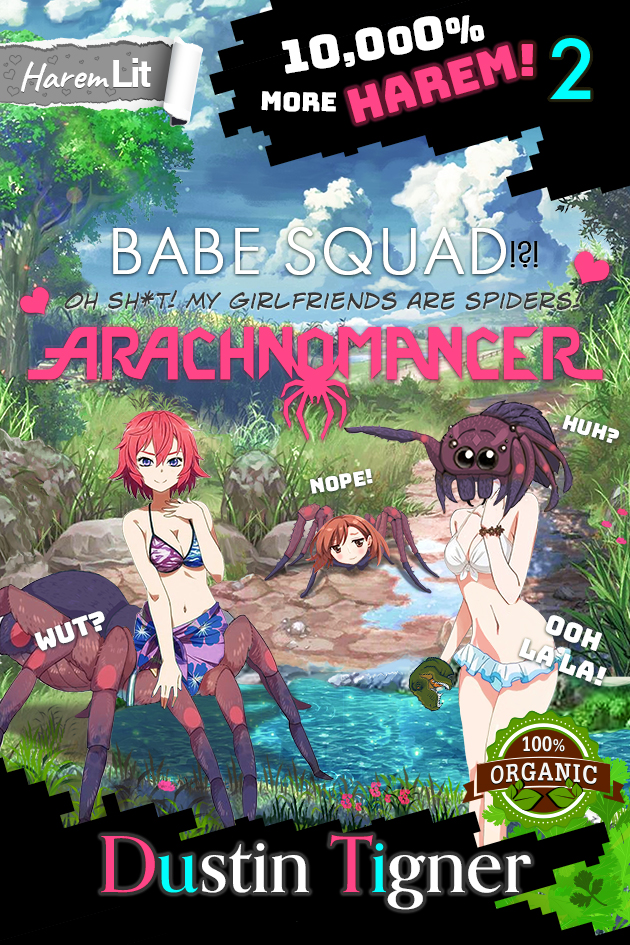 Of course. Duh! Just do everything: human top, spider bottom; spider top, human bottom; and perhaps the most popular of all, spider with a human head. This is 2021, we don't kink shame!
Whoever said you can't please everyone was an idiot.
But I'm not stopping there. Nope nope!
I stole access to Paul Bellow's GLT-3 AI. I fed that sucker all of the genre's posts and tweets and Discord chat messages for the last six years—2,190 days—and, damn, you guys are gabby blabbies, unknowingly casting your votes for what you want in the next best-selling GameLit.
As Mark Watney would say in The Martian, "I'm going to write-to-market the sh*t out of this!"
Arachnomancer is getting cultivation, RPG apocalypse, dungeon core, T-Rex hands, and cilantro!
I'm sure you have questions; I have answers.
Q: I thought this book took place in gamer heaven?
False! It really takes place on Earth in the distant future. Gameus is not a god but an alien that has used his superior technology to add game mechanics to our reality. This will become clear when Dhane discovers a massive, gold-plated torch sticking out of the ground from the Statue of Liberty.
Q: Why are you using anime characters?
By using these beautiful babes on my cover, I can claim the highly coveted Light Novel status and charge $7.99 per eBook!
Q: Will there be an audiobook for this one?
YES! But it'll be in Klingon using their amazing store, Kaudible—a store that takes an ethical 30% and not 60-75% from authors. The audience is a bit smaller, however, it's better to be a whale in a puddle—of about 20 people—than a guppie in an ocean. Am I right, or am I right?
Q: What does cilantro have to do with GameLit?
I have no idea, but that's what my machine overlord told me to include.
Alright alright, so where is the REAL Arachnomancer 2? It's coming in September! And though the first book was a total failure for not including any of these amazing qualities, it's better to get it over with before the second one launches.
Oh Sh*t! I F*cking Hate Spiders!
(Arachnomancer, Book 1)
$4.99
· 370 Pages · 93,500 Words
GameLit
Comedy
Isekai Fantasy
Spiders…
Disclaimer: Yes, I know, Mark Watney only said that in the movie. No anime babes were harmed in transforming them into spiders. Guppies are mostly a freshwater fish, which kind of proves my point. I like cilantro. In case it needed to be said, this is an April Fools' joke; enjoy this wonderful holiday. :)